Allround outdoor First Aid Bag
A First Aid Kit is a collection of supplies and equipment that is used to give medical treatment. There is a wide variation in the contents of first aid kits based on the knowledge and experience of those putting it together, the differing first aid requirements of the area where it may be used and variations in legislation or regulation in a given area.
The international standard for first aid kits is that they should be identified with the ISO 15223-1 graphical symbol for first aid. RFX+CARE First Aid kits are all medical Class I, Is and CLASS IIa in accordance with Medical Device Directive MDD 93/42/EEC_June1993.
Content
Art no
Quantity
Trans. Plaster in PE bag

47214:56x19mm

47216:72x25mm

47215:72x19mm

total 15pcs
Kid plaster
45119
10pcs
6cmx1m plaster
47100
1pcs
disposable gloves
45140
1pcs
skin cleansing swabs
45280
6pcs
metal tweezers
45172
1pcs
safety pins
45192
6pcs
forhead thermometer
45219
1pcs
scissor,12.7cm
45112
1pcs
sport bandage
45189
1pcs
dry swabs
45191
5pcs
adhesive tape
45174
1pcs
wound compress
45110
2pcs
skin closure stripsx3
45290
1pcs
tick remover
45167
1pcs
burn gel
45195
1pcs
saline solution 15ml
45115
1pcs
duct tape 2m roll
45263
2pcs
towel tablet
45264
2pcs
first aif dressing
45103
1pcs
elastic bandage
45107
3pcs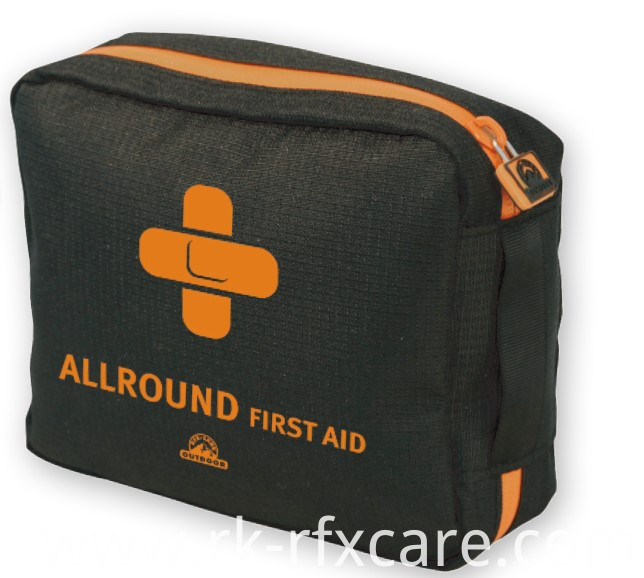 Product Categories : First Aid Kit > Outdoor First Aid Kits